Distance Healing offered over the telephone – Receive the benefits of Energy Healing from the comfort of your home.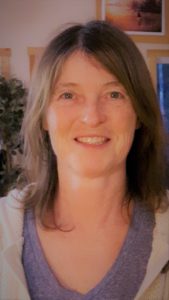 Massage Therapy, Member of the Professional Massothérapeutes Association of Québec (M.P.A.Q/A.M.P.Q) and Energy Healer
What is Energy Healing?
Energy Healing is a gentle technique given at a distance over the phone or in person that can direct universal life force energy through the body to help it heal. It releases blockages in the energy lines of the body to improve a person's physical, emotional, mental and spiritual well-being. It can be used to reduce stress, relieve pain, accelerate healing, lighten emotional distress and balance energy. It is subtle yet profound. Grounding the energy helps to yield more healing.
Please note that Jean does not diagnose or advise on any medical treatments. Energy Healing does not replace medical treatments but when you open yourself up to energy healing, you will be amazed at the healing that can occur.
Jean's view and experience on Energy Healing work
The fundamental condition to being healthy is being grounded. Our human condition is largely shaped and influenced by our emotional body. Our 'negative' emotions can create imbalances that then cause disease. Every disease has an emotion attached to it. When you are grounded, you flood a negative (or challenging) experience or emotion with love and light. Grounding keeps the energy body clear and healthy.
While you can pray and meditate, ask God for help, or call in the angels, if you cannot ground the divine light because of blockages in the body, the energy field may not clear.
When you are not grounded, by letting the emotions flow through your system, you can become filled with them, then this blocked energy can manifest in the body as disease. The blockages first show up in the energy field and then later manifest in the physical body. Usually the approach is to fight the illness, rather than strengthen the body, the emotions, the mind and spirit in order to allow the energy to flow through freely.
The energy field can be photographed, seeing the aura in a photo is possible. As we clear this energy field and rebalance and open up and clear the chakras, we can feel much better.
Being grounded is being fully present, physically, emotionally and energetically. It means your mind is clear, not wandering and taking your energy elsewhere. You are not searching the past or future in your mind. It is being fully present. Most people are challenged by their mind wandering to negative thoughts and worries about our daily lives. Learning to change our thoughts and keeping them high and feeling good is what we all want.
When we stay grounded and fully present, we open ourselves up to the universal divine energy around us. As tension melts away, we can feel peace and serenity can enter our lives, and healing can take place. When we stay grounded, we do not create chaotic reactions around us. We can enjoy our lives and not take life or others so seriously. We can start to look at our lives differently in a positive way.